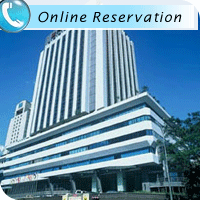 Plaza Hotel Kuala Lumpur
Jalan Raja Laut
50350 Kuala Lumpur
Malaysia
Accommodation at Plaza Hotel, Kuala Lumpur
Plaza Hotel is located in the heart of Kuala Lumpur's fast growing business, commercial, entertainment and shopping district and is walking distance from Sultan Ismail STAR LRT station. It has 158 standard, deluxe rooms and suites.

A1 Malaysia Hotels provides information on Hotels in Malaysia and online hotel booking for Malaysia hotels and budget hotels in Malaysia. You can book a room online in Plaza Hotel Malaysia on discount and affordable rates through A1 Malaysia Hotels. We also provide online hotel booking facility for Kuala Lumpur Hotels, Penang Hotels, Langkawi Hotels, and hotels located in other parts of Malaysia.