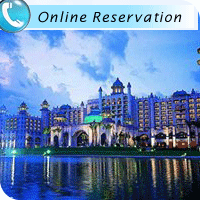 Palace of the Golden Horses Kuala Lumpur
Jalan Kuda Emas
The Mines Resort City
43300 Seri Kembangan
Selangor Darul Ehsan
Malaysia
Accommodation at Palace of the Golden Horses, Kuala Lumpur
Palace of the Golden Horses is the Best New City Hotel in Asia-Pacific according to the leading international travel and hospitality publications. This world class award-winning luxury hotel is situated on the shores of 150 acre lake and is a 20 minutes drive from Kuala Lumpur city center and 35 minutes from the Kuala Lumpur International Airport.
It features 480 cozy rooms and suites which are well equipped with all the modern facilities.