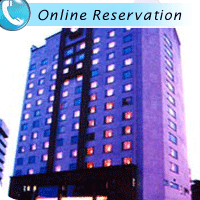 Midah Hotel Kuala Lumpur
8, Jalan Kampung Attap
504600 Kuala Lumpur
Malaysia
Accommodation at Midah Hotel, Kuala Lumpur
Midah is a luxury business hotel, located within the commercial and business hub of Kuala Lumpur. Chinatown, Central Market, Dataran Merdeka and National Mosque are within walking distance from the hotel. It offers 198 spacious rooms and suites, all equipped with modern facilities.

A1 Malaysia Hotels provides information on Hotels in Malaysia and online hotel booking for Malaysia hotels and budget hotels in Malaysia. You can book a room online in Midah hotel Malaysia on discount and affordable rates through A1 Malaysia Hotels. We provide online hotel booking facility for Kuala Lumpur Hotels, Penang Hotels, Langkawi Hotels, and hotels located in other parts of Malaysia.