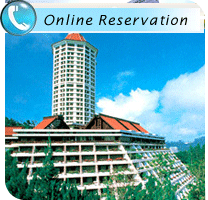 Awana Genting Highlands Resort
KM13, Genting Highlands
69000 Pahang Darul Makmur,
Malaysia

Accommodation at Awana Genting Highlands Resort
Awana Genting Highlands Golf and Country Resort is located in country's largest and oldest mountain range. Located about 3,000 feet above sea level, the resort is just 51 kilometers from Kuala Lumpur. From the Genting City, the hotel is only 15 minutes drive. The Awana Genting Highlands Resort is has double deluxe rooms for luxurious accommodation. The hotel is fully equipped with all the modern facilities.



A1 Malaysia Hotels provides information on Hotels in Malaysia and online hotel booking for Awana Genting Highlands Resort Malaysia and budget hotels in Malaysia. You can book a room online in Malaysia hotels on discount and affordable rates through A1 Malaysia Hotels. We provide online hotel booking facility for Kuala Lumpur Hotels, Genting Hotels, Langkawi Hotels, and hotels located in other parts of Malaysia.